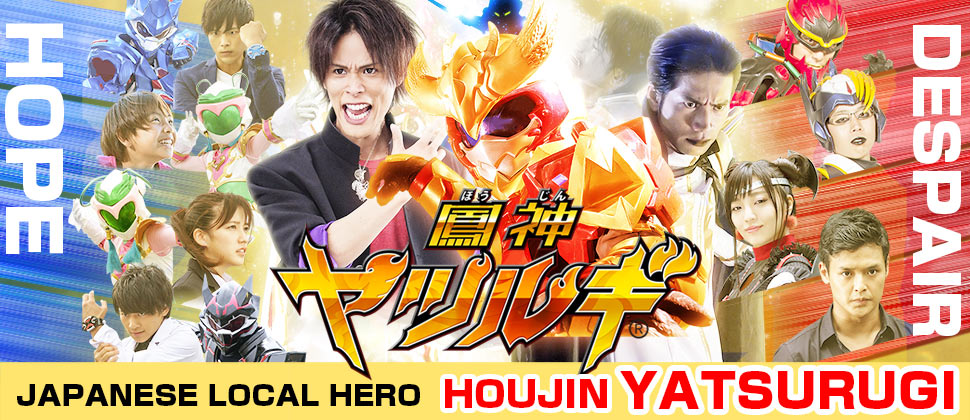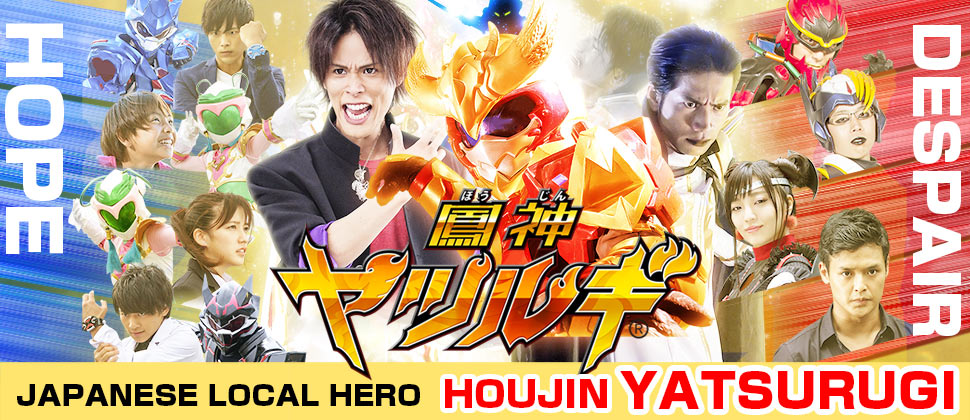 INTRODUCTION


Yatsurugi is a Tokusatsu TV-show that is broadcast in the Chiba Local TV Station from 2011.
The characters and stories are based on real traditions from Kisarazu. All of the videos are shot in the local areas.
In Japan, this style of Tokusatsu is known as the "Local Hero" , and is spreading all over the nation.
Yatsurugi is well known for its exciting action scenes and beautiful computer graphics.
The quality of the show is recognized by all of the viewers.

Periodically, events are held in Chiba, where Yatsurugi works to promote the local community and industries.
From these activities, Yatsurugi became a popular character in Chiba.
The fourth season has just finished broadcast, and the fifth season is coming up.
And in 2014, Yatsurugi was screened in a theater.

By producing Tokusatsu films and events, we are providing hopes and dreams to the children who've suffered from the earthquake disaster in 2011.
The slogan is "I'll show you my Kisarazu Spirit!!"


CHARACTER
YATSURUGI / TAKERU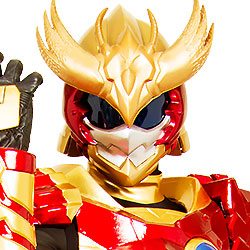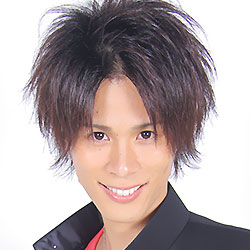 From the age of fables, Yatsurugi has protected Kisarazu. With the assistance of a young man named Takeru Yamato, Yatsurugi advents to fight for justice. Yatsurugi is the incarnation of a Phoenix and Takeru Yamato is the same name as the legendary hero in the Japanese Mythology. Takeru is a very cheerful person who makes everyone around him joyful. He often gets carried away with things but he has a strong sense of justice. Takeru uses Yatsurugi's power stone to transform into the legendary fighter.

KISARA / MARI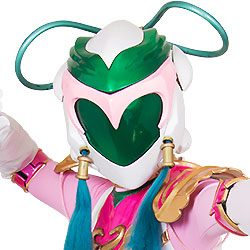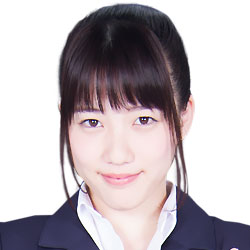 Kisara fights with Yatsurugi to protect the people of Chiba. She has the power of the wind and swiftly aids Yatsurugi. She transforms by holding the broach around her breast.

LIGHTNING GAION / TOHMA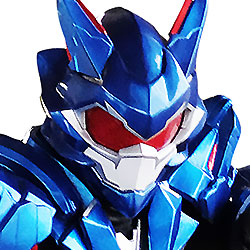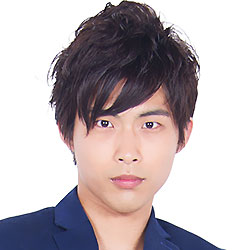 Tohma Shishido, Takeru's friend, created the Gaion Suit in order to fight against the enemies. From repetitiously upgrading the combat suit, he has become a trustworthy partner. Gaion uses numerous weapons and precise judgement to help Yatsurugi out.

Feel free to contact us anytime!
Whether you are a corporation or an individual, we welcome you if you are interested in Yatsurugi. Please contact us if you are interested in becoming our partner for broadcast (motion pictures distribution), interviewing about Yatsurugi, and any other questions about Yatsurugi!